After watching recent episodes of The Rachel Zoe Project, I pretty much fell in love with her sequin berets and thought what a fun accessory to have in your wardrobe!
I looked around at a couple of websites and nobody really had what I was looking for as far as color, style and price so I thought I'd try my luck on ebay. And what do you know! I found one that looked like it would be perfect! When the package arrived I was so excited... until I pulled out THIS: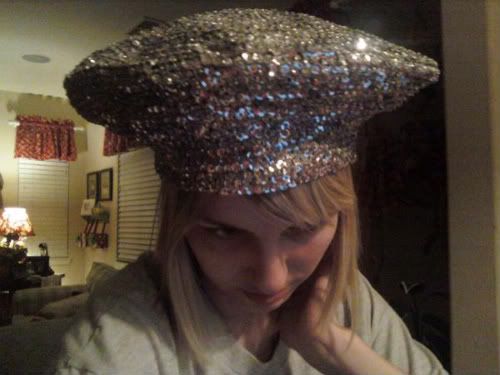 ahahahaha I DIE. but not in a good way. and just imagine how I felt when I realized that the seller has a NO RETURN OR EXCHANGE policy! I cannot believe I actually paid money for this! What am I going to do with it? I can't re-sell it on ebay, nobody would buy it! It's like a bedazzled Swedish Chef hat!
I'm wearing it right now, and I think I should make it into my blogging beret... kind of like a thinking cap. I honestly don't know what else to do but have a sense of humor about it because it's so ridiculous and if I actually think about wasting my ebay gift card on this, I would surely cry from regret and embarrassment. Does anyone know of a place or website that sells cute and reasonably priced sequin berets? Is it even considered a beret? Maybe that's what got me into this mess in the first place. oy vey. help.