Since Halloween is only 10 days away, I thought I'd show some of my costumes from past Halloweens.

2004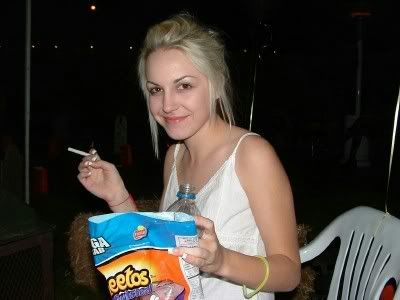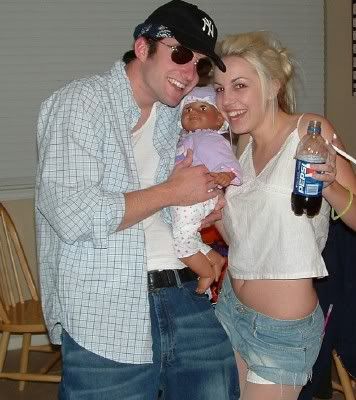 My boyfriend and I decided to dress up as Britney Spears and K-Fed.
My outfit was pretty simple: white tank top, cut off shorts, flip flops (because I didn't want to go barefoot), a Kabbalah bracelet (not the glow stick bracelet, the other one haha) pepsi, Marlboro lights, and some cheetos.
2005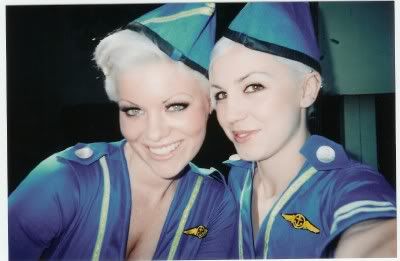 My friend Emily and I dressed up as flight attendants. We got $10 for winning first place in our cosmetology school costume contest. Emily put me to shame, she wore the costume so well... I'm sad I don't have picture of the whole thing.

2006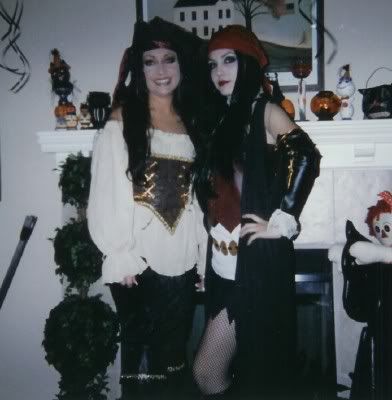 My sister's halloween party was pirate themed, so we all dressed up like pirates. I think my favorite part of the costume was the black wig, I could get away with wearing so much makeup!

2007

I had to work this halloween so I decided to go as Indiana Jones. It was great because not only do I love Indiana Jones, but I didn't have to buy a single thing for my costume. I made it from things I already had. I wore my old work pants, old navy button up safari shirt, my brother's leather fedora and I wore my dad's binocular case so I could carry necessities.

2008


Last year was probably one of my favorite costumes eeeever! I went as Melanie Daniels from Hitchcock's The Birds. I wanted to be this ever since the year before when I watched the movie on Halloween, and was trying to think of the best way to make the costume myself when I actually came across the costume for sale! It's one of the few costumes I've actually bought, but I think it was a good investment. It was a really great conversation starter while I was at work, too. Some people got it right away and some people looked at me like I was crazy.
But my favorite costume of ALL TIME was this: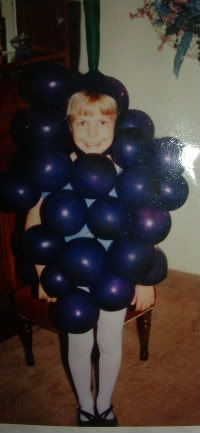 I dressed up as grapes when I was 6. It was my mom's idea. I already owned the purple leotard and tights, my mom sewed together the stem hat and we blew up balloons and pinned them all over. Completely homemade, and completely awesome.
Come to think of it, my mom made pretty much every one of my costumes growing up: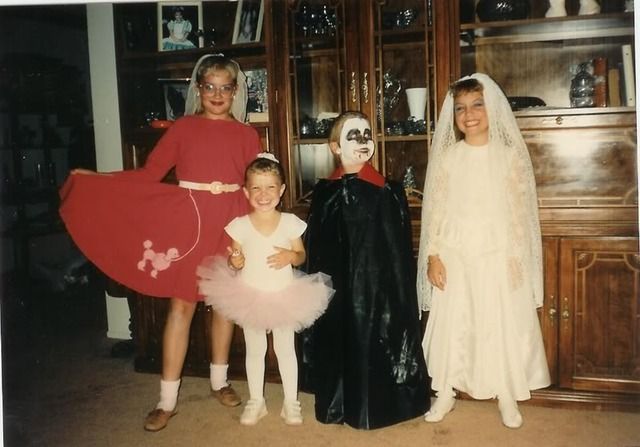 Ballerina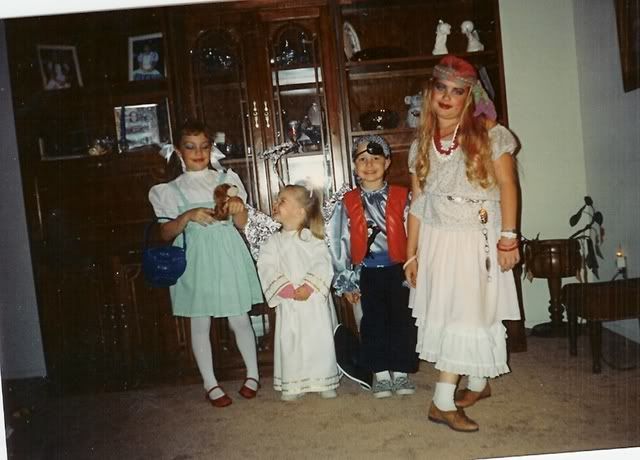 An angel.
Look at those tin foil wings and halo! haha and look at me looking adoringly at my sister.
Other homemade costumes included Miss America and a bride, but I'm too lazy to scan the pictures haha.
Halloween is probably one of my favorite holidays, if not my favorite because you get to be whatever you want. Sometimes I wish I could dress in a costume everyday, but I guess that would get old after awhile, so I'll just take advantage of dressing up once a year. I'm excited for this year's costume. I'm going to be (drum roll, please)..............
AMELIA EARHART!
I already had everything in my closet... I only had to buy two things: the helmet and goggles, because I didn't just have those lying around, obviously. I can't wait to dress up and show you guys! What are you guys dressing up as?!