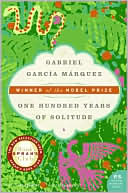 Every book list I've ever seen that was some sort of "100 books to read before you die" or "The top 100 books of the 20th century" had Gabriel García Márquez's
One Hundred Years of Solitude
on it. I knew that I had to read it at some point, and since I loved
Love in the Time of Cholera
, if figured it was better now than later. The book spans of the history of a fictional city Macondo, but more specifically the history of the Buendía family. It's imaginary realism at it's finest. Impossible things happen in Macondo that doesn't seem so impossible; an insomnia plague, a trail of blood traveling across town and up curbs, gypsies with flying carpets. All of it is apart of their reality. One of the highlights for me is the character whose presence is always preceded by yellow butterflies, as well as the fact that when someone dies, they're never really dead because their ghosts freely and regularly roam the house at night.
The thing about
One Hundred Years
, for me at least, was that it really did feel like you were reading through one hundred years. You felt like that amount of time had passed when you were finally finished reading it. It reminded me of hour
Life of Pi
really made you feel like you spent
months
at sea on a lifeboat, and in a way, dragged on. I hate saying that since I know it's such an amazing piece of literary work, but alas, I'm saying it. Also, numerous characters have the same names. At the beginning it's manageable to tell one from another, but by the end of the book, and six Aureliano's later, it starts to mix you up. Though talking to a friend about it, he said that he had no problem differentiating one from another because of their distinct personalities. So, to each their own. All in all, I think it has beautiful imagery and magical elements and it's worth reading. I will stand by that I enjoyed
Love in the Time of Cholera
more though.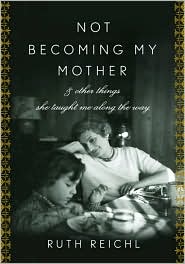 I know what you're thinking.
Not Becoming My Mother
, how mean! The title is deceiving though, since it's actually not becoming your mother in a
good
way. Actually it's not about your mother at all, it's about Ruth Reichl's mother, but you get what I'm saying. It's a true story about a woman finding these letters her mother had saved and reading them after she passed away and discovering more about her than she ever knew while she was alive. It was about her mother
not wanting
her daughter to be like her, or follow in her footsteps, because she didn't want her to live the life she did. Her mother had a failed marriage, and un-supportive parents. She compromised numerous things in her life and never forgave herself for doing so. She always regretted not having a career and not pursuing her dreams and it wasn't until she was much older that she finally started to
live
. It was a very quick and enjoyable read, and I'd highly suggest every woman read it.

Has anyone read either of these? What is your opinion about them? Or did you read anything really good during July? I'd love to hear about that too!