Since taking a little more of a personal turn on my blog, and May being
Skin Cancer Awareness
Month, I felt it the perfect opportunity to share my experience with skin cancer.
Growing up in Southern California two things are inevitable: one, the majority of your summers will be spent at the beach and two, it's sunny about 90% of the year. Knowing this information you can do two things with it, you can be smart and enjoy both of these things while using sunscreen, wearing a hat, covering up, just being protected
or
you can choose to take advantage of these California perks and slather on sun tanning oil and try to get as dark a tan as you possibly can. I chose the latter. My favorite part of going to the beach was coming home and taking a shower and comparing how tan my skin got by my newly formed tan lines.
But the thing is, I'm fair, so I never really just got tan-- I got burnt. I remember about three of four times throughout my childhood and teenage years of being horribly and painfully sunburned. One summer in particular, before my freshman year of high school, I was invited to spend a weekend at the beach for my friend's birthday. Three full days of laying on the beach, from morning till dusk, with not a single slab of SPF. It wasn't until the last day when I started to feel like my skin was on fire that I finally decided maybe I should put on some sunscreen, but by that point it made no difference. I was so badly burned that the skin on my forehead started to peel about two layers down and revealed this tender, pinkish skin that would sting and burn if I tried to put anything on it, especially makeup to cover it up. That's how I had to take my yearbook photo.
Laying out on Catalina Island, 2001
If that wasn't bad enough, when I was 17, I got a job at a tanning salon. One of the perks of working there was free tanning. I didn't work there for very long, a little over two months, but I milked the free tanning for all I could while I could. Every single day off I had, two or three times a week, I was tanning. It was the middle of winter and I was the tannest I'd ever been in my life. I loved everything about it. I loved relaxing and listening to music while feeling the warmth of the bulbs on my body, doused in the scent of tanning lotion. And working there, you were fed these claims and "facts" that tanning beds weren't harmful and having a base tan was actually healthy and prevented sun burns and cancer by building your skin's tolerance to UV rays. I even wrote a school paper
defending
indoor tanning, and arguing how it was actually
good for you
. Even after I quit my job, I still continued to tan for months afterward until slowing tapering off and doing Mystik tanning instead. I'm not sure if I switched because I was actually concerned about developing cancer, or because it just gave me faster results. Probably because I got faster results since I clearly remember one time going to the salon and Mystik tanning and then jumping into a tanning bed to get extra tan.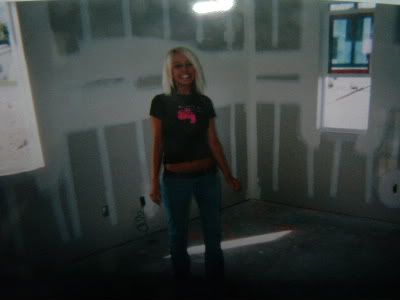 me at my "tannest", 2004
Then one night in 2007, I was sitting on my bed reading, with my legs bent when out of nowhere something on the back of my leg caught my eye. It was a dark freckle about the size of a pencil eraser that I never remember being there before. I immediately got worried. I told my mom and we decided to just watch it and see if it changed. A few months later when I started noticing that it had gotten darker, but only on one side, I knew it wasn't good. About two months after my 21st birthday, I went to the dermatologist and got a biopsy. A week later I was told it was melanoma, the most serious type of skin cancer. "We're pretty sure we got it all, the margins look clear," my dermatologist told me, "but with melanoma we have to take extra precautions. You'll have to have surgery."
In August of that year I had surgery to remove the surrounding areas where the cancer had been, making the incision about 6 inches long and 3 inches deep. I was off of work for 3 months healing. It was only suppose to be 3 weeks, but the stitches on the incision popped post-surgery causing the wound to reopen and have to heal naturally from the inside out (which is why my scar is so messed up and asymmetrical). I have a love/hate relationship with my scar. It's high enough up on my leg where it's easily covered up unless I wear short dresses or skirts, but sometimes I still get self-conscious about it. Other times I like it. It's a reminder of how lucky I am, and how cautious I need to be. It's a story, a time in my life forever marked on my body. Even though it's on the back of my leg so I can't physically see it, I'm still reminded everyday that it's there. I can feel it when I sit down or cross my legs and I know it will never not be there. Nor will the other scars I have from multiple other biopsies I've had to get the past three years.
post-surgery, 2008
Now everyday I put sunscreen on my face before my makeup, and I spray my body with SPF 80. I wear sunglasses all the time. I have dark spots under my eyes, not from lack of sleep, but from discoloration due to sun damage. I'm constantly having to be vigilant of when new freckles and moles pop up (just found a new one in between my fingers) and I have to go to the dermatologist every six months to get checked. For the rest of my life, I have to do this. In some ways I'm glad I got it when I was so young, instead of 20 years down the road when I have 20 years worth of more sun damage. And because no matter how many people tell you that there's a chance you're going to develop skin cancer, you never really believe them, or take them seriously. You think, "yeah, maybe... but right now I look damn good being tan" Trust me. I know this. I live by a lake and every summer I see people in bathing suits lathering up their bodies in oil and walking around in summer dresses with their sun-kissed tans, and I get jealous. I want to do that. (Though a lot of times I see people extremely burnt and in pain and I think, 'I'm so glad I'll never have that again.') I want to frolic around the beach and come home and bask in my body's tan lines. But I can't. Thank God for sunless tanner... It's a lifesaver. It's an instant, natural looking tan without the sunburn or the damage. I was always too impatient to lay out long enough to get super dark anyway.
So if I can offer you any piece of advice, it would be to be cautious and be preventative. Do it before you have a six inch scar on your body reminding you to do it. And don't think just because you aren't blonde hair/fair skin you aren't at risk. Everyone is at risk. Did you know Bob Marley died from melanoma? It really can happen to anyone, yet it's one of the most preventable cancers. Please learn from my mistake. If you'd like to know more about skin cancer and preventative care you can visit the
Skin Cancer Foundation
.