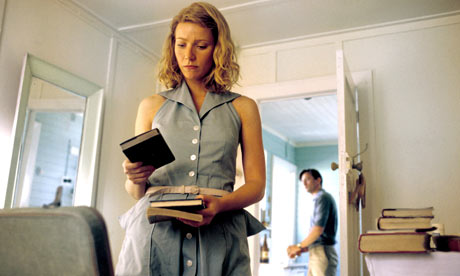 Movie:
Sylvia
(2003)
Costume Designer:
Sandy Powell
(Shakespeare in Love, Gangs of New York, The Aviator)
You may or may not know that I am in a total Sylvia Plath phase right now. I remember watching this film for the first time a couple years ago, and from the first scene of Sylvia riding on her bike through Cambridge, I instantly knew I was going to love it. What drew me in was her hair and wardrobe. The movie follows Plath's life from 1956 when she meets Ted Hughes at Cambridge until 1963 when she commits suicide. The thing about that's so fascinating about her clothing is that you can clearly see that her style changes depending on her mental state. When she first meets Ted and falls in love, she wears stylish dresses with beautiful silhouettes and her hair is always curled, and during their summer at the beach house, she wears sundresses and halter tops. It isn't until they move to the country and Plath starts suspecting Hughes is cheating on her that she grows her hair long and starts wearing Pendelton skirts and dark neutral colors. It isn't until she tries to reconcile with Hughes that she curls her hair, puts on makeup and wears a body-hugging dress.
It's like her clothing mimics her feelings, and isn't that exactly the same with our style in real life? That we chose a style and clothing that reflects how we feel? If I'm having an off day, I'll just throw my hair up and wear jeans and a t-shirt, whereas if I'm happy and inspired, I want to wear bright bold colors, curl my hair and wear a face full of make-up. I just love how Sandy Powell shows Plath's emotional breakdown through the clothing she puts her in and how so much of what you feel can be conveyed with what you wear.
If you haven't seen this film yet, I'd definitely recommend it. Even costumes aside, it's an interesting and heartbreaking story of a tortured soul trying to deal with both her relationship and her craft and the constant competition and inferiority she feels from her husband. Go see it! Let me know what you think!